Joel Bass founded City Tails in the West Village in 2007 and continues to operate as a small business that proudly offers personalized pet care.
Joel was born and raised in San Diego, California, and grew up with three German Shepard dogs that assisted his dad at the San Diego Police Department. He learned early on the importance of treating pets with love, kindness, and respect. Dogs have always been a part of his family, and he treats each City Tails dog as if it were his own.
In 2007, Joel moved to New York City and founded City Tails after realizing that pet owners were looking for a more personalized and caring dog-walking experience. Joel and his team strive to provide excellent customer service to each client, and always enjoy welcoming new families (and pups) to the City Tails crew. He and his wife live in the West Village with their three young daughters and American Eskimo dog, and his entire family loves when the City Tails pups visit.
We don't believe in pack walks, we are strict about safety, and we love to have fun with our pups. Every dog deserves personalized attention, hugs, and endless belly rubs.
Our dogs are an extension of our families, and we love every single dog as if they were our own. Dogs wag their tails and get excited to see us, and the West Village is a perfect place for an outdoor adventure during each of NYC's great seasons.
Our team is the best in NYC.
They are attentive, responsible, and caring.
City Tails NYC carefully selects, hires, and trains our dog walkers to ensure that each City Tails experience is a memorable one. Our motto is "safety first", and we use positive reinforcement to ensure that your pups have fun and feel loved. City Tails is fully bonded and insured, certified in canine/feline First Aid, and deploys a harness belt on each walker as an added safety measure.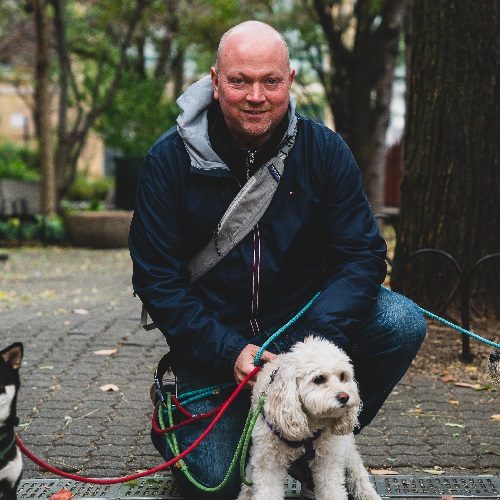 Jimmy
Dog Walker
Jimmy was born and raised in Pittsburgh as part of a large family, where he gained a strong work ethic, sharp wit and people skills...
Marlene
Dog Walker
Marlene grew up on the Lower East Side of Manhattan and worked as an event planner prior to joining City Tails. As a dog lover, she...
Arty
Dog Walker
Arty is first-generation Mexican-American and was born and raised in Queens, New York.  During his career, he has worked in a variety of roles including...
Ashley
Dog Walker
Ashley was born and raised in the Lower East Side, but currently lives in uptown Manhattan with her son, her dog and their reptiles.  Ashley...
Valerie
Dog Walker
Valerie was born and raised in Soho, New York.  She's the proud mother of 16 year-old daughter Angelina, and a dog mom to a 10 year-old Shih Tzu Charlie.
Jailene
Dog Walker
Jailene was born and raised in East Harlem and is Dominican American. She has loved animals ever since she was a little girl, and always wanted a puppy of her own...
Marie
Chief Admin Officer
Marie was born and raised in the Philippines and is currently living in Manila with her husband and their six cats. She worked for more than 10 years at a local university...
The Interns
...
The Bass Family's 3 little girls love all of the City Tails NYC pups, and we like to call them "The Interns".  Next time you see Zara, Mila and Nika in...
Luka the Eskie
...
Luka is the original City Tails NYC pup - he's the one that brought Joel and Michelle together many years ago.  Luka (Michelle's pup) was one of Joel's first clients...